How to redeem free gift coupons at Harbor Freight Tools.
It's tricky, but can be done...
Harbor freight has some great printable free gift coupons. Many of them require a purchase, but can be anything. Even an item for 10 cents! Just in case you don't have a Harbor Freight near you, heres a quick rundown on how to redeem the coupon and get the free gift using their website.
1) Add any item to your cart
Usually the free gift coupons require a purchase, any purchase. In order to make the coupons work, you have to have at least 2 items in your cart. The one you are getting for free and another item that fulfills the "with any purchase" requirement. If you are already buying an item, then you can skip this step. If not, simply add the least expensive item on the site. Use this link to find one for .89 cents, and add it to your cart.
2) Search for the item you want for free, using the item number
As seen below, this coupon can be used with item 953, 69210, 96128, 69136, 69248...
3) Simply put one of these numbers into the search box on harborfreight.com
Go to harborfreight.com. type in the item number and click search.
4) Click "Add to cart"
The item should be the one depicted on the coupon. Add it to your cart.
5) At checkout, enter the coupon code.
The coupon code is at the bottom of the coupon, under the bar code, enter that number into the "coupon codes" box and hit "apply", the items subtotal will now display "free".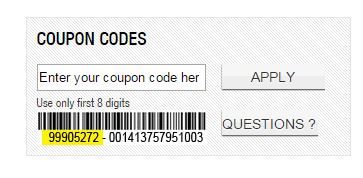 Note: Shipping charges may apply, so it may be better to use in-store if possible.
Facebook Conversations
---